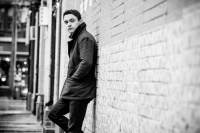 *** CANCELED ***
Joshua Hyslop
Time: 8:30pm Day: Tuesday Doors: 8:00pm Ages: 21+ without parent or guardian Price: $12.50
This Event Has Ended
During 2016, critically acclaimed Canadian singer and songwriter Joshua Hyslop didn't have to
look far for the inspiration behind his third full-length album, Echos [NETTWERK].
"2016 was a tough year for a lot of people," he explains. "A lot of my new songs were inspired by the hardships of others around me. A handful of songs are based on my own experiences but, largely, the record came from observing people who I'm close to. I wanted to take those real experiences and echo them, being as true to them as I possibly could. Honouring them. Words were structured to be very empathetic."
Empathy has been a consistent hallmark of Hyslop's approach. His albums continually strike a
human chord. Following a marathon run of 100-plus intimate "House Shows," he released In
Deepest Blue in 2015 and subsequently became a streaming phenomenon averaging over 1.6 million monthly listeners and touted on popular Spotify playlists such as "Acoustic Covers," "Your Favorite Coffeehouse," "Relax & Unwind," and more. "The Flood" generated over 14.3 million streams, while "The Spark" crossed the 9-million mark. Meanwhile, he would be featured by American Songwriter, NPR, Exclaim!, and more while regularly touring worldwide. Two years later in February 2017, he retreated to Afterlife Studios in Vancouver, BC to record Echos.
In order to capture the essence of these 11 tracks, he re-teamed with his In Deepest Blue
collaborator John Raham behind the board. Tracked in only three weeks, they bottled the
palpable energy in the room. At the same time, the subject matter markedly differed from that
of his last offering.
Introducing the album, the stark contrast of Hyslop's whispered delivery and raw guitar makes
the first single "Fall" resound with passion, pain, and power all at once. He goes on, "It's about
somebody reaching the end of the line and feeling hopeless and not being sure how to move forward. It's hard to get back on track. That's a common thread in life. I don't know what it's like to go through their experiences, but I can write about them from the outside." Delicate acoustic guitars and lush violin course through the follow-up single "Say It Again." Hyslop's vocal vulnerability carries the searing admission, "Oh my heart is going places. Oh my
God, I'm going down." "This one is about my life," he admits. "I've been wrestling with these
existential questions like, 'Is what I believe simply what I was taught to believe or something I'm just accepting?' I don't know how to sift through it anymore. I've reached a place where I realize not knowing isn't necessarily the worst thing. It's okay to have questions." Elsewhere, "Stand Your Ground" provides an uplifting affirmation, while the elegantly engaging closer "At All" leaves a lasting impression with its powerful instrumental architecture punctuated by strings.
Ultimately, you'll feel close to every word, because of Hyslop's innate capability to empathize.
"I hope people really listen and immerse themselves in this record," he leaves off. "It'd be great if they really spent time with the lyrics. There's a lot going on for people underneath the surface. I hope this album encourages people to be a little more patient and a little more kind."