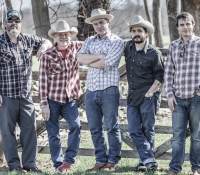 Western Centuries
Time: 8:30pm Day: Tuesday Doors: 8:00pm Ages: 21+ without parent or guardian Price: $12.50
This Event Has Ended
When did country music start to sound the same? The first generation of country artists borrowed from everything around them: Appalachian stringband music, Texas fiddle traditions, cowboy songs, Delta blues. In an era of unprecedented access to our musical pasts, shouldn't country music be even more diverse than it was in its infancy? Honky-tonk supergroup Western Centuries, back with a new album in 2018, surely understands this. They aren't bound by any dictum to write songs in a modern country, or even a retro country style; instead they're taking their own personal influences as three very different songwriters and fusing it into a sound that moves beyond the constraints of country. Part of the reason they can make music with this range of influences is because of their roots in city life. Both Cahalen Morrison and Ethan Lawton, two of the three principal songwriters, live in Seattle's diverse South end, and the third songwriter, Jim Miller, spends most of his time in and around New York City. The urban landscape is rarely mentioned in country music, but it makes for a refreshing sound that draws as easily from modern R&B as it does George Jones. It helps too that the album was recorded and co-produced by acclaimed musician and Grammy-winning producer Joel Savoy in Eunice, Louisiana, where local Cajun and Creole artists have always been adept at marrying old country sounds with R&B and rock n roll.
With Songs from the Deluge, out in 2018 on Free Dirt Records, Western Centuries brings three songwriting voices together into a more unified sound than ever before. Over the past year of heavy touring (since the release of their last album), they've pushed each other hard as songwriters. But with a band this well tested on the road, it's the sonic and lyrical places where each artist's styles depart that's most interesting..
Ethan Lawton, known for his earlier work in Zoe Muth and the Lost High Rollers, loves to pen imaginative parables about people living at extremes. "Wild You Run" by Lawton tells the story of watching someone you love deteriorate with a crippling addiction. The subject chases his temptation, but loses his soul as Lawton cries out helplessly "I won't tell mama what you done, go have your fun...." Lawton's "My Own Private Honky Tonk" is a rambunctious new take on the drinkin' alone narrative which finds Lawton dancing and playing music until the downstairs neighbors call. It's a boogie-woogie flavored tune à la Fats Domino that highlights the upright bass work of Nokosee Fields, the band's newest member. With the opening track, "Far From Home," Lawton wails "mother, dear mother, won't you spin a yarn about the way things were." It's about the dark days that young men found abroad in Vietnam and the personal wars they had to fight when they returned back home.