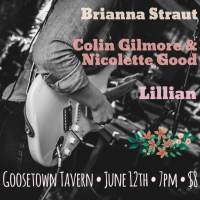 Lillian Soderman
Colin Gilmore & Nicolette Good
Brianna Straut
Time: 7:00pm Day: Wednesday Doors: 6:00pm Ages: 21+ without parent or guardian Price: $8
This Event Has Ended
                                                                                                                                                           BRIANNA STRAUT
Americana singer-songwriter Brianna Straut conveys the human condition through empathetic storytelling. Born and raised in Texas, Brianna sings from her roots, incorporating lamentations of lost love and soaring moments of hanging on to the good times into her bittersweet folk tunes. She's been a member of Denver-based Americana outfits such as Bison Bone and Tomahawk Fox. More recently, Brianna has branched out on her own as a singer-songwriter with a voice that is as proud as the Rocky Mountains she now calls home.
Her latest release,
La Mano
is the first in a series of three albums inspired by the hands of her community. Marquee Magazine has described it as "... the hard, chapped and cracked withered hands of modern working-class Americana — coupled, of course, with Straut's beautiful, soaring voice."
Brianna has opened for artists such as Lillie Mae, Son Volt and Israel Nash. She's been compared to Lori McKenna in a recent write up by 303 Magazine in which they write, "[T]here is something about a girl and a guitar that can tug at those heartstrings. Straut pulls from her personal experiences to really give her songs a deep sense of emotion that listeners can empathize with regardless of their own personal experiences."
Brianna has been touring the country promoting her new album and gaining experience to write into her next.
Colin Gilmore and Nicolette Good
Colin Gilmore and Nicolette Good began playing and singing as a duo in 2014 after hearing each other's compelling songwriting.
Together, Colin and Nicolette bring an irresistibly compelling melding of voices that are each haunting and melodic in their own right, with the whole being somehow greater than the sum of the parts.
Lillian Soderman

IT ALL STARTED WHEN...
Lillian was born in Dallas, Texas. at a young age, she moved to the expansive desert of Arizona with a southern belle mother, a New Yorker pilot father, a wizard for a brother and a posse of Boston Terriers.
At six-years-old, Lillian learned how to play the piano and discovered her voice. Always on the move, she loved playing sports, but found that singing and playing music was her true passion. As a teenager, she decided to pick up a guitar. Lillian fell in love with the notion that music and song could follow her wherever she went.
This came in handy after college when she spent significant time on the open road, transitioning through a variety of westward cities and experiences along the way.
From flipping pizzas in Phoenix, to counseling addicted homeless youth in Portland; traveling the world as a nanny in LA, to now discovering Salesforce in Denver, Lillian has worn many hats and met some really incredible people. But the one constant has always been her music. It's the thread that weaves and draws the web of her life.
Music is freedom. It allows Lillian to flow through every discovery, down whichever open road she so chooses.
She's had the pleasure of sharing the stage with mirah, Tennis, paper bird and other amazing musicians.